unhosted web apps
freedom from web 2.0's monopoly platforms
definition
Also known as "serverless", "client-side", or "static" web apps, unhosted web apps do not send your user data to their server. Either you connect your own server at runtime, or your data stays within the browser.
advantages compared to native (iOS, Android) apps
web apps work on any device, no matter which platform or provider
you can get apps from any website, not just through a censored app store
advantages compared to hosted web apps
choose your server provider independently of which apps you use
likewise, your choice of apps is not narrowed down by your storage provider
the app provider no longer gets to see your data by default
unhosted web apps are cheaper to publish than hosted ones
unhosted web apps can easily be mirrored for kill-switch resilience
infinite per-app backend scalability (there simply is no per-app backend)
what? no backend? so the whole app is actually client-side?

your everyday LAMP-stack, J2SE, .net, or Ruby-on-Rails hosted web app
yep. over http, you receive the app's source code, rather than an opaque user interface. take a minute to wrap your head around this…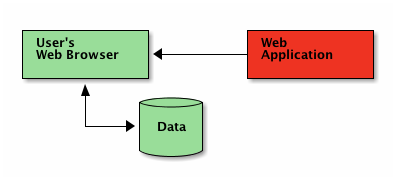 the new "unhosted web app" architecture